A world class place to work!
26 January 2023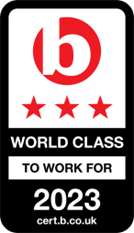 Liaison Group has been named a 'World Class' place to work, having been awarded a 3-Star Accreditation from Best Companies in January 2023.
A 3-Star Accreditation is Best Companies' highest standard of workplace engagement, representing world class levels of employee engagement and representing organisations that truly excel.
With an ongoing commitment to supporting its remote workforce in all aspects of working life, from career development and learning, to wellbeing and social interaction, Liaison Group continues to deliver as an employer dedicated to meeting the needs of its workforce.
Liaison Group CEO, Andrew Armitage, says: "As a company, we've always been committed to making Liaison Group a great place to work, and that mission has never been more important than over the past three years since the pandemic began. We've admired the ideas, suggestions and resilience of our teams, and are appreciative to everyone involved who continues to make Liaison Group world class!"